ReplicaGunsSwords.com
131 Greenbriar Dr.
West Monroe La.
71291
Fax: 318-397-7828
Toll Free Phone:
866 809-GUNS (4867)
8 AM to 5 PM Central
Monday Through Friday

Email Us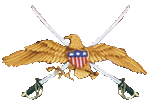 Replica Guns Swords :: Civil War Weapons

We have Museum quality Weapons of the Civil War, Civil War Replica Weapons for sale online for Civil war Reenactments and Civil War Replica Weapons Collectors including, Civil War blank guns, civil war non firing pistols, hand guns and revolvers, civil war rifles including flintlock rifles and flintlock pistols, civil war holsters and scabbards, Civil war Replica swords, daggers, knifes, insignia, metals, memorabilia and field gear, historic civil war boxed and framed display sets that make great Civil War gifts. Our civil war Replica weapons are used for movie and stage props, displays and reenactments as well as for Collectors of Civil War guns, swords and knives. Buy Civil war weapons online here.

Enjoy your visit by clicking on a category below to the right of the picture.

25% discount on all items at check out!